In 2009 I decided after much procrastination to bite the bullet and change my setup to one that's more conducive to astroimaging since that's where my interests lie. This meant switching from my old fork mounted Meade LX200 to a GEM setup. I went ahead and sold my old kit to fund this new direction so the big questions were, what to buy?
Mount
I'd heard many times over, that the single most important element in an imaging setup is the mount. My original plans were to go for a Losmandy G11 however I had some concerns about the load carrying capacity of this mount. At the time, I was planning to mount a Meade 12" LX200ACF OTA on it and use my existing Skywatcher ED80 as a guide / widefield scope, piggybacked on the LX200. The problem was that according to some people, this would be too much load of the G11, particularly for imaging at the long focal lengths associated with a 12" F/10 imaging train. I was considering my options when the Aussie dollar began its march north. This had the effect of bringing Losmandy's heavy duty mount, the Titan into my budgetary range. So I decided to purchase the Titan head unit only as the additional cost of the HD Tripod was just too much for me. I had heard that people were using Meade Giant Field Tripods with the Titan and there were a couple of 2nd hand units for sale on Ice In Space.
I placed my order through "TelescopesAstronomy.com.au" in Adelaide for the titan head unit, MAL & counterweights in early October 2009 and began my wait.
Tripod
I found a second hand Meade Giant Field Tripod (supplied with Meade 12" & 14" LX200s) for sale in Tasmania. I decided to purchase it and organised to get it shipped up to Sydney. On receiving the tripod, I was shocked to find that the cast aluminium brackets that the legs attach to had snapped off on 2 of the legs.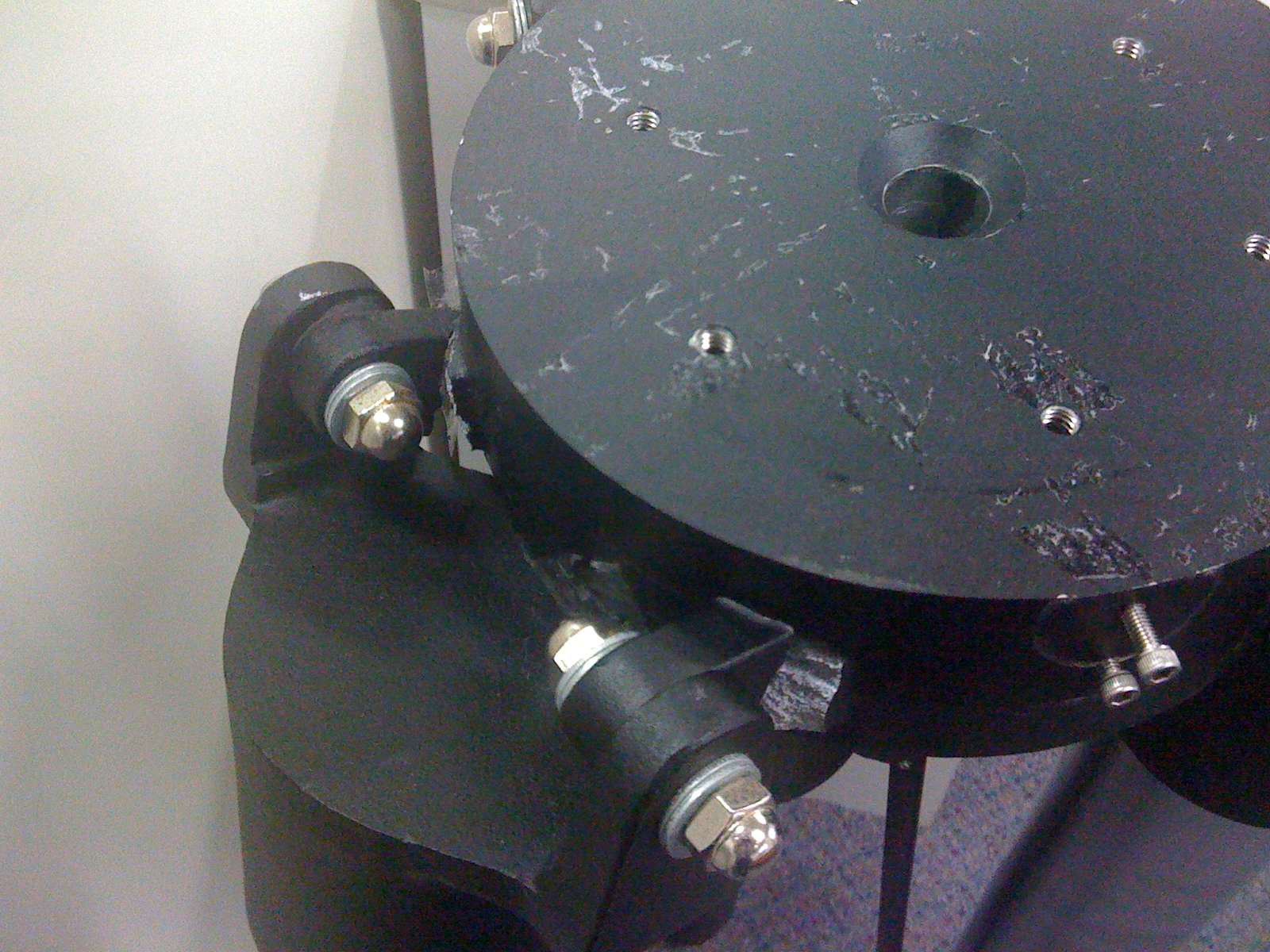 I submitted a damaged goods claim to the courier company however it was rejected as the unit was not purchased new and I had no way of proving that it was not damaged before shipment. I ended up getting the tripod repaired at a local welding shop (I had to shop around a bit to find someone with the right equipment to weld cast aluminium). The following photo shows the repaired tripod. It needs a bit of touch up paint but the guy who welded it back together tells me that it's stronger than the original.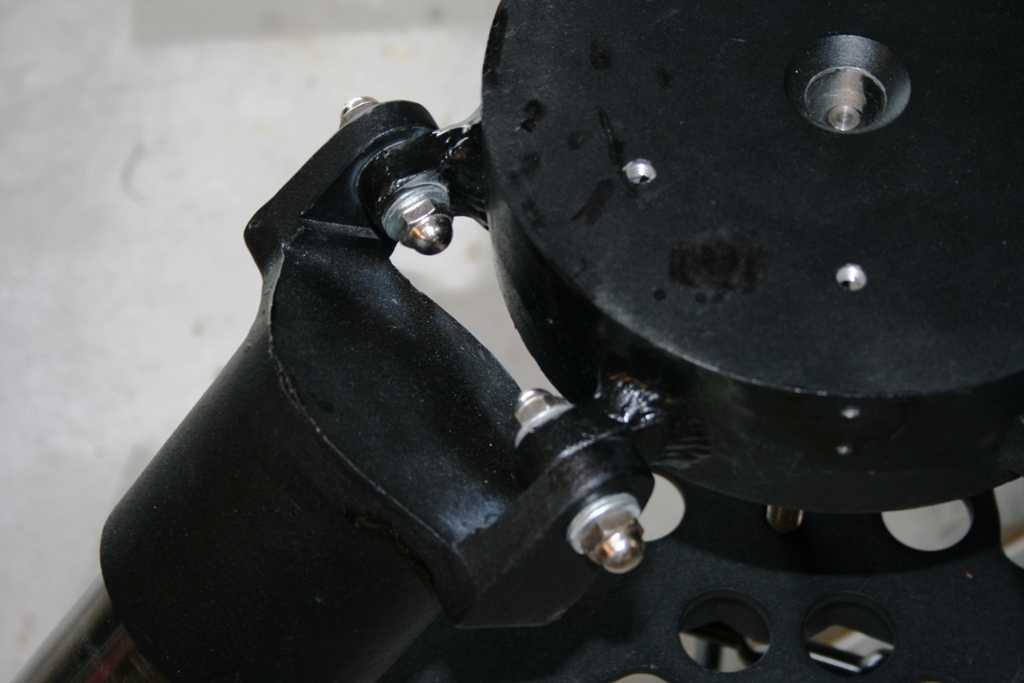 In order to mount the Losmandy Titan head on the Meade Tripod and on my permanent pier, a mounting adapter will be required. Luckily, Losmandy already produce such an adapter (Losmandy Model MAL). I ordered one to arrive with the Titan.
Meade Tripod Adapter, manufactured by Losmandy
OTA
This was a real difficult choice for me. My original plan was to go with a Meade 12" LX200ACF OTA. They were close to $AU5,000 new which was well above my budget so I decided to wait for a 2nd hand unit to be listed on the various web astro classifieds sites (IIS, Astromart, etc). During the wait, 2 used OTAs listed at about the same time that really caught my attention. The first was a Takahashi FSQ106 & the second was a Meade 14" LX200ACF.
I initially had my sights set on the Meade, but when I stopped & thought about it I really couldn't go past the Takahashi. A number of factors went into this decision.
Cost - the 2 OTAs were the same price however the additional parts that I'd need to purchase to accommodate a 14" OTA really made a big difference (shipping from WA to NSW, Additional Counterweights for mount, micro-focuser, mounting rails).
Transportability - Even though I plan to observe & image mainly from my back yard, I still have plans to take it to a dark sky location once or twice a year. There's no doubt that lugging a 14" OTA around would be a huge task. The FSQ on the other hand is ideal for both observatory work & field work.
Quality - Even though I'm sure the Meade would have been a good scope, I've heard way too many stories about the quality of Takahashi products to pass this opportunity by. The FSQ which has 4 fluorite elements configured in a Petzval design has a reputation for providing a very wide & flat field without any colour distortion.
Field of View - Obviously the 2 OTAs are very different beasts when it comes to the FOV and this is one of the main reasons I went with the Takahashi. I enjoy imaging nebulas and the LX200 would have been better suited to the really deep field stuff like planetary nebulas & faint galaxies. I would still love to be able to image small galaxies some day so when funds permit I'll purchase a larger OTA (probably an SCT or an RC) to compliment the Takahashi.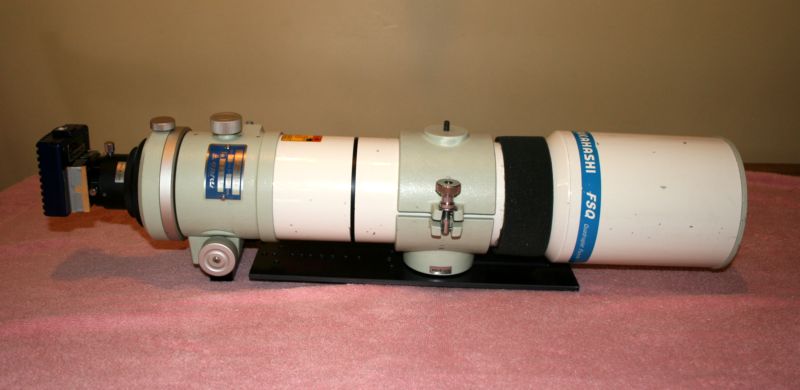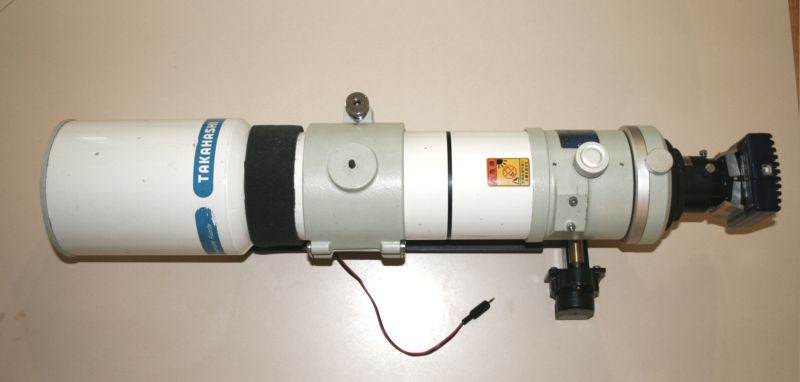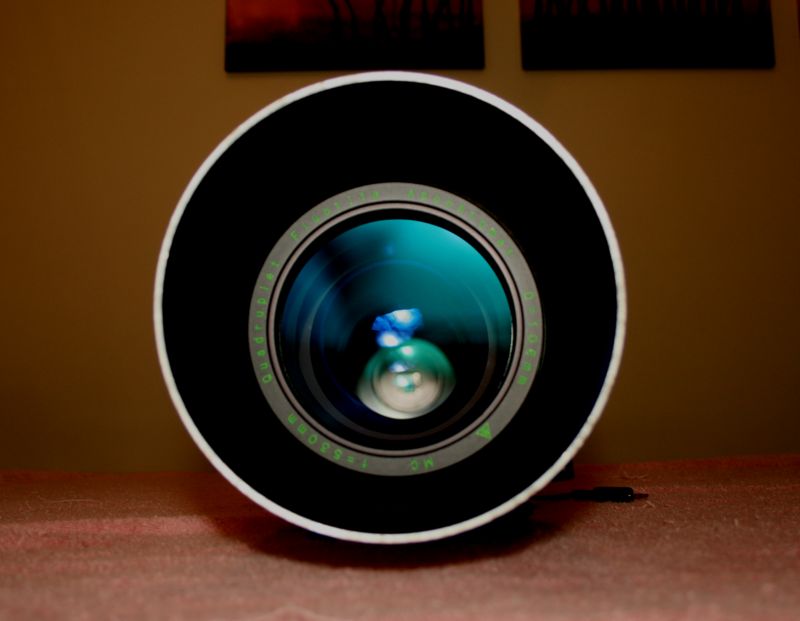 Camera
I had planned to image with my Canon EOS 400D however by selling some excess equipment I was able to afford a QHY9 with colour filter wheel. The small pixel size of 5.4 microns should provide a suitable match for the FSQ106 at ~ 2 arc secs / pixel. The QHY9 is apparently able to be cooled to 50 deg c below ambient so it will hopefully cope with those hot Sydney summer nights.
I've seen some awesome examples of what this camera can do and I hold out high hopes for it.
It arrives!!!
After what seemed an eternity (actually, it was only 3 months), the Titan mount arrived in 4 boxes.
Box 1: Titan RA Unit with counterweight shaft

Box 2: Titan Dec Unit with Dec clutch knob

Box 3: Gemini Computer system

Box 4: 2 x 11lb counterweights
What? Where is the Losmandy Tripod adapter that I ordered? It turned out that Losmandy did not have these in stock at the time of shipping the mount and there was going to be a delay of a few weeks before it arrived. After some quick shopping around, I found one in OPT which I promptly purchased. I cancelled my original order and 1 week later it had arrived and I was ready to go.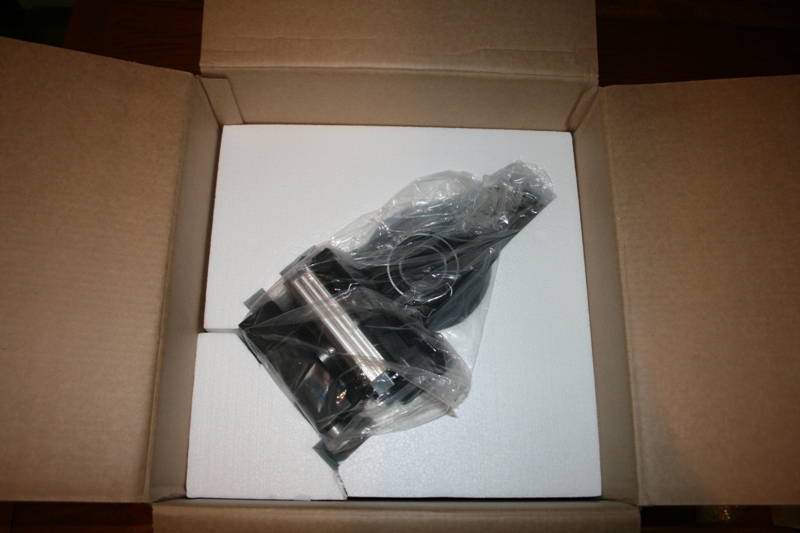 Dec Unit
RA Unit
The RA & DEC Units were packaged well in separate boxes with molded Styrofoam inserts and suffered no ill effects during the shipment from USA to Australia. The finish on both units was excellent with most surfaces black anodised. They are machined out of premium grade aluminum pieces (big pieces) so they are quite heavy. Both the RA & the Dec units weigh in at 37.5 lbs each so they take a bit of lifting.
The Gemini system and other miscellaneous bits & pieces (screws, hex wrench kit, cables, etc) were shipped in a separate box, as were the 2 x 11lb counterweights.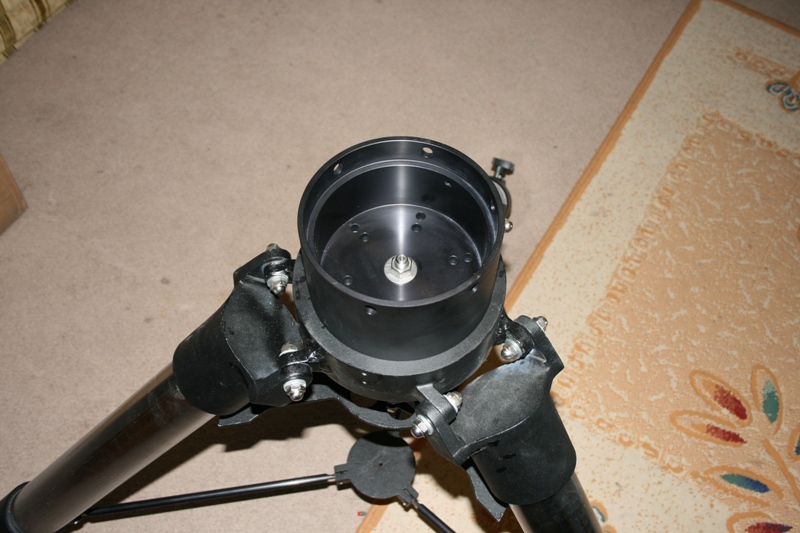 The first part of the construction was to fit the adapter unit onto my Meade Giant Field Tripod. This was achieved by securing the centre threaded rod as shown above with a 1/2" bsw nut. This serves to form a very rigid & stable setup by forcing the tripod legs apart with a spreader assembly. The adapter can be further secured with 6 x 5/16" bsw bolts which thread directly into the tripod head. There were no problems at all here as everything aligned very well.
My 7 year old son James hard at work bolting the RA assembly to the tripod adapter.
Once the Meade Tripod Adapter unit was securely fastened, I mounted the RA unit and secured it with the 6 hex bolts provided with the mount. This was a simple operation as all holes aligned perfectly. Note the large plastic washer on the RA shaft which stays in place when the DEC unit is attached.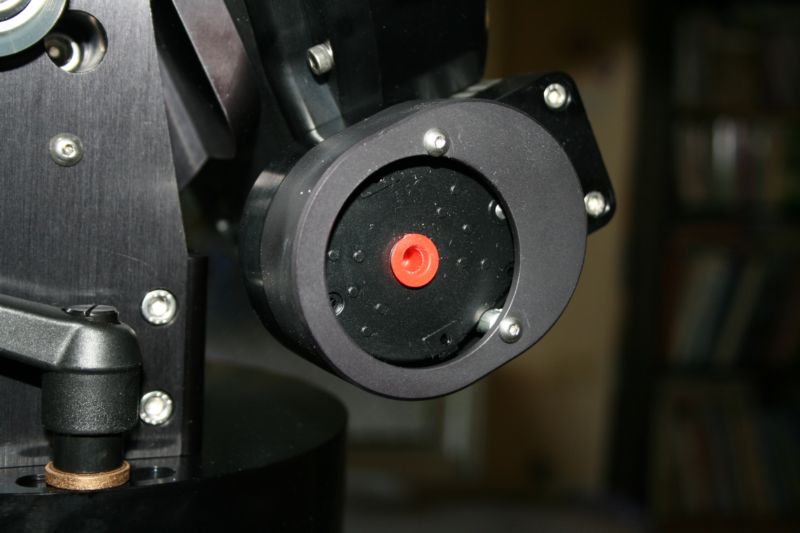 The mount is shipped without the motors installed (I assume to avoid damage).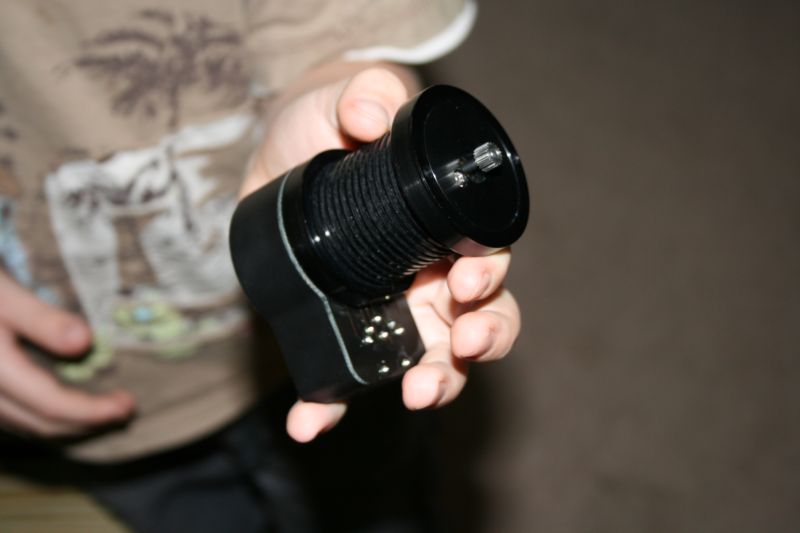 Maxon motors are used on all new Titan mounts (they are options for other Losmandy mounts). They provide 30% more torque that the standard motors and are less prone to burnout.
Heck, that thing is heavy!
The next step was to install the Dec unit. I made sure that I lowered it carefully down the RA shaft to avoid any damage to the shaft. It's a good idea to have the RA clutch ready to screw in. I found that the clutch really had to be screwed down very tightly to prevent the Dec unit from slipping. I was initially concerned that this may be a problem with my mount but a quick search of the web forums showed that it's fairly normal.
My 9 year old daughter, Amanda passes a scrutinising eye over my new Titan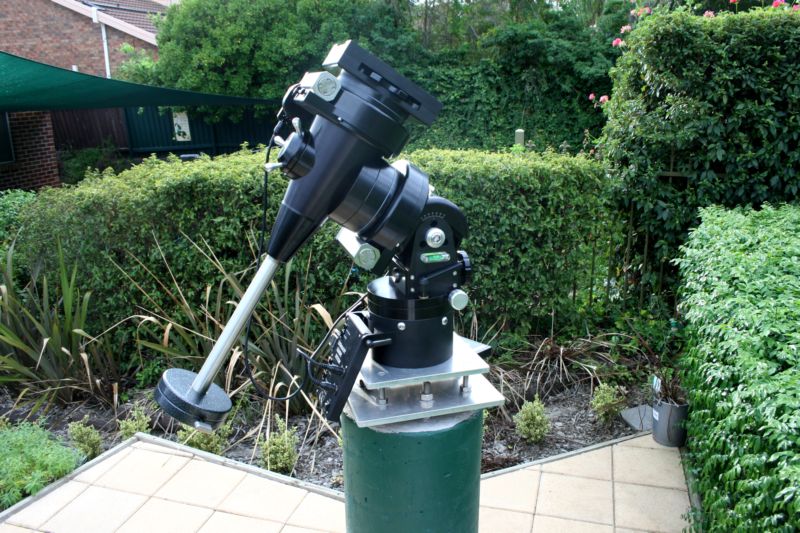 The Titan mounted and aligned on my back yard pier
As I'll be doing the vast majority of imaging from home, I'll keep the Titan permanently mounted on my backyard pier.
First Light
<![if !vml]>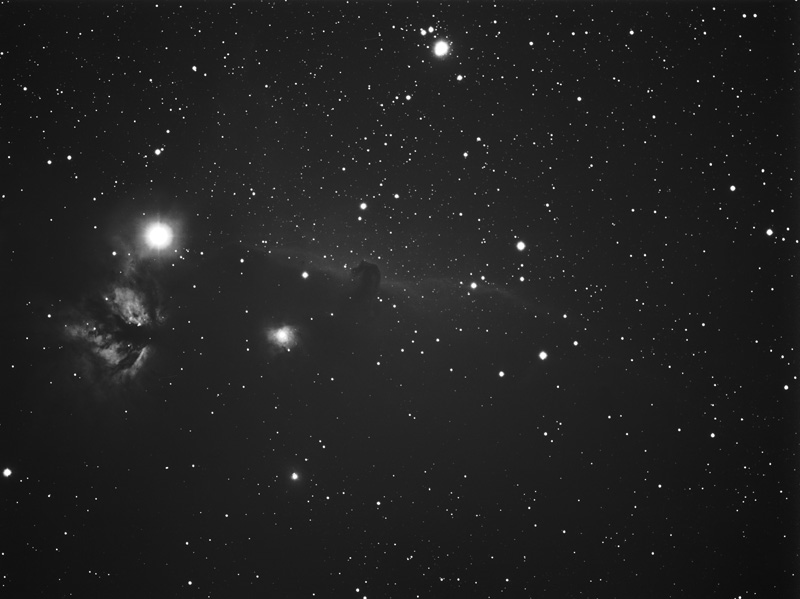 <![endif]>
This is a very quick shot I took to test the tracking ability of the mount and to try out the QHY9 for the first time.
20 mins unguided (20 x 1min subs), sum stacked & calibrated with bias & dark frames (MaximDL)

QHY9 with no filters, cooled to -20 deg c (ambient temp was 30 deg c).

FSQ106 @ f/5

1/4 phase waxing moon